Tickets for our upcoming fall show "The Pirates of Penzance" are now on sale.  Click here to buy tickets.  A swashbuckling adventure awaits!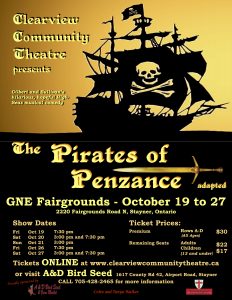 Show dates are as follows:
Friday Oct. 19th 7:30pm
Saturday Oct. 20th 3:00pm and 7:30 pm
Sunday Oct. 21st 3:00pm
Friday Oct 26th 7:30pm
Saturday Oct 27th 3:00pm and 7:30pm.