Our travelling troupes start in January, we are proud to offer the following groups for community participation on the following nights (no audition necessary):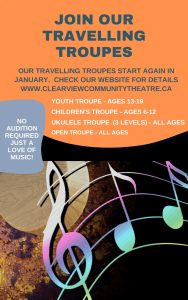 Mondays 7pm – 9 pm – Open Troupe, an all ages choral group singing songs from broadway and hit songs.  This is a fun, all ages group, singing arrangements in SATB format.  In the past, we've done arrangements from Lion King, Greatest Showman, Phantom of the Opera, just name a few.
Tuesdays 6:45pm – 9pm – Ukulele Troupe, this a fun all ages group with three levels: learn to play and level 2 and 3.  Each level is 45 minutes with learn to play participants being invited to join the higher levels as their skill improves.  All participants under the age of 9 must be accompanied by an adult and you must bring your own ukulele.  Please email clearviewcommunitytheatre@gmail.com if you have any questions about requirements etc..
Wednesdays 7pm – 8pm – Children's Troupe – for kids ages 6 to 12, kids must be able to read and will be preparing a short mini-musical to be presented at our annual spring concert in April.
Sundays 2pm-4pm – Youth Troupe – for teens ages 12-19.  A choral group singing popular songs that are chosen by our youth director for the youth. A bit of choreography is usually thrown in to make it a hilariously fun and energetic group!
All troupes will culminate in a spring fundraising concert held the second last weekend of April.  The 'travelling' portion of our troupes is then taking parts of that concert to our local area nursing homes and performing for those that can't get to our shows, giving a true community feeling to these wonderful groups!
For all information, please watch our website for details, or email clearviewcommunitytheatre@gmail.com and please put the name of the troupe in the subject line.  See you in January!