Sing! Musical Fundraising Concert                         and Silent Auction
Clearview Community Theatre is proud to present "Sing!" Fundraising Musical Concert and Silent Auction on Friday April 27th and  Saturday April 28th at 7:00 pm at the Clearview Community Church in Stayner.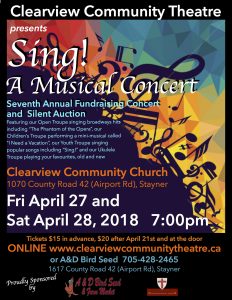 Featuring our Open Troupe singing broadway hits including "The Phantom of the Opera", our children's troupe performing a mini-play called "I Need a Vacation", our Youth Troupe singing popular songs including "Sing!, and our Ukulele Troupe playing your favourites, old and new.
Tickets are $15 in advance, after April 21st they are $20 and also available at the door for $20.  General Admission – doors open at 6:30pm.  There will be many items to bid on in the Silent Auction and Raffle.  Proceeds to support our fall show "Pirates of Penzance".